Sacred Menarche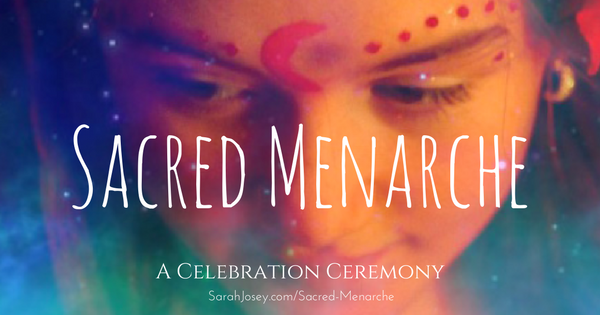 As someone who deeply cares about the future of our culture and the way it reflects upon and a sees menstruation (regardless of gender), I have been moved to offer menarche ceremonies in order to help those who experience monthly bleeding more fully understand and move in to the power that their bodies hold.
This is a full day ceremony that I offer to any person who wishes to celebrate and honor their first bleed, regardless of how long ago it began.
The ceremony is meant to be shared with close loved ones with whom you want to celebrate with and should be viewed with the same lens as Bar/Bat mitzvahs, Quinceanera's, and Sweet Sixteen's. It is meant to be a deeply moving and meaningful celebration of one's transition into the next phase of life.
The following description of what this ceremony is intended for was written by my mentor in the menarche ceremony sphere, the amazing and wonderful Tnah:
"In an effort to come together in support for our future generations, in a time where our girls are being taught consumerism, encouraged to relate to the world through what they look like or how many social media "likes" they can obtain, I want to call on all the women outside of the family who are needed as teachers, role models, and mentors to step up to re-shaping this for them.

This rite of passage ritual of honoring when a girl gets her moon-time bleed, celebrates the young maiden and honors her growth. This is intended for a girl's first time bleed ceremony, it is a beautiful rite of passage that can be offered at any stage of a young woman's journey.

We are being asked to come together in welcoming the initiated maiden into womanhood through the act of ceremony. It is vital that we remember to embrace and celebrate this time so that her maturation reflects life lived fully with hope and self-love.

Making way for this important passage through meaningful connection, where we come together to honor, nurture and celebrate her in a way that gives her pride and confidence as she moves into a more self-realized person. Preparing her for the red moon journey, helping her discover her woman's wisdom, holding a safe space and weaving a web of support like a sacred vessel among those wise women she looks up to, values and respects. Here she is allowed to explore, ask questions that reliving deep in her and release any fears or blockages she may be feeling about her monthly bleeding.

With the acknowledgment and encouragement of the women who love and support her, she can embark on this journey, finding her unique path. This celebration is unique in that it asks us to remember the power of our blood, focusing primarily on nurturing the initiated young girl, honoring her changing body, filling her with confidence and empowering her as the goddess she is."
While we traditionally understand menarche as being female, the reality is that not everyone who bleeds sees themselves as such, therefor this ceremony can be done for anyone who bleeds who wishes to celebrate it.
For more information about this ceremony please contact Sarah:
SarahJosey@GoldenPoppyHerbs.com