Flower Essences for Postpartum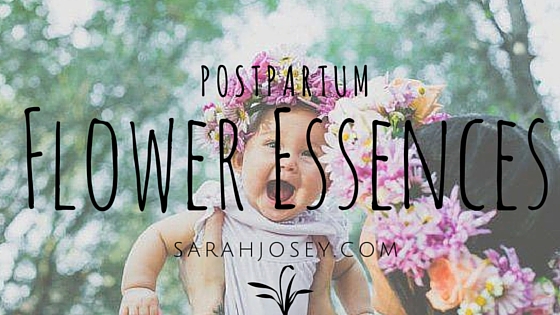 From the Flower Essence Society:
Flower essences are herbal infusions or decoctions, made from the flowering part of the plant, which uniquely address emotional and mental aspects of wellness. The first 38 flower remedies were formulated by a British physician, Dr. Edward Bach, in the 1930's, although new remedies from other plant species are now available.
How do flower essences work?
To understand how flower essences work requires a recognition that the human being is more than a physical body, but also incorporates a "body" of life energy, a "body" of sensitivity and feelings, and a spiritual essence or Self. Flower essences are energetic imprints of the life force of plants which interact with these subtle bodies of the human being, and evoke specific qualities within us. We can say that they work in a similar way to inspirational music or art, which carry meaning through the vehicle of sound or light, while the flower essences work through the medium of water.
Modern physics has known for nearly a century that matter and consciousness are intertwined. However, medical science still generally works with a nineteenth century model of the human being as a mechanism in a world of machines. We expect that in the coming century medical science will develop ways of studying the impact of consciousness on health, and we will learn more about the ways in which flower essences work. However, empirical research, which consists of the collection of case studies and practitioner reports, will remain the primary source of knowledge about how flower essences work.
How are flower essences used?
Flower essences can be used in a number of ways. The most common way is to take them orally, four drops, four times a day. Our experience shows that it is not necessary to take them internally. They can also be used by adding five to seven drops in a plant sprayer bottle and misting a room or our bodies. You can also add a few drops to the bath, spray clothes before ironing them, or spray your pillow before sleeping. What is important to remember is that they are a vibrational essence, and surrounding yourself with them, inside or outside, is the best way to experience their effects.
The following are some of the categories of emotions that tend to arise during the postpartum time period and can be helpful to have on hand to work through this emotional time.
Look through the categories and read about the essences that are in each category to find the one's that best fit you are your particular situation.
If you'd like to have support in this area, consider getting a Mother Embracing session.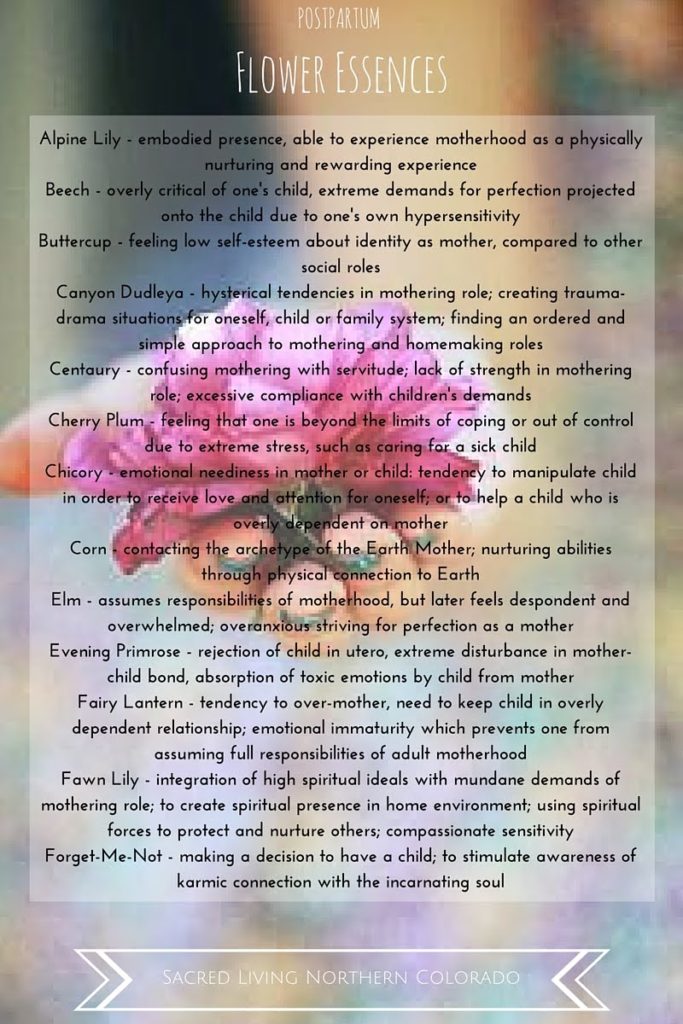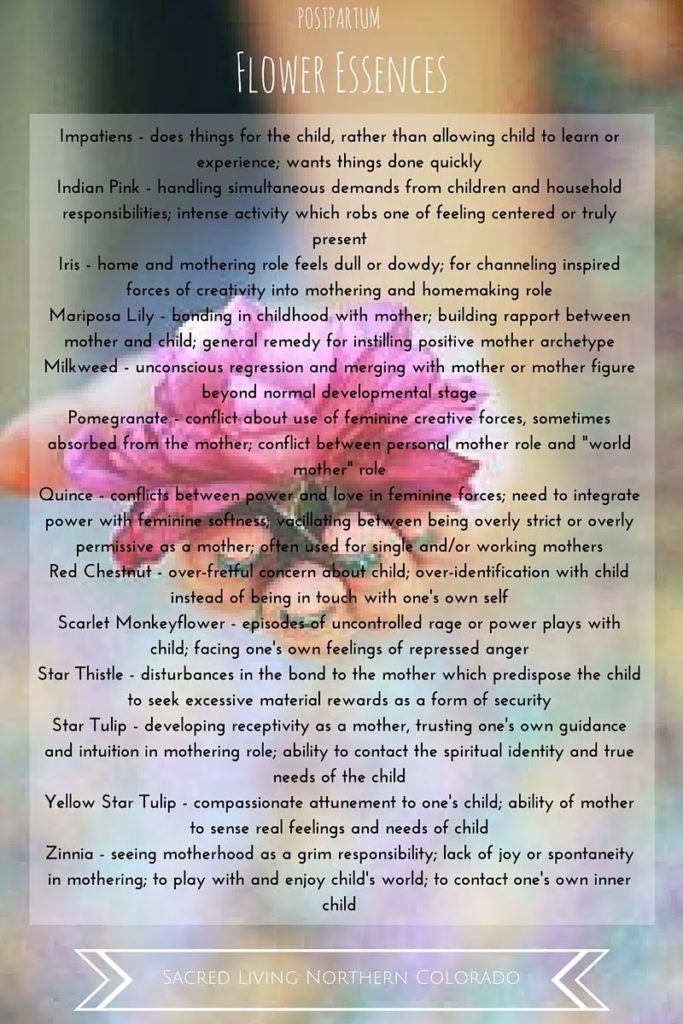 From the Alaskan Essence Society:
Align­ment
Ances­tral Healing
Anx­iety
calms mental anx­iety—Aqua­ma­rine, Blue Topaz, Goats­beard, Valerian
from being over­whelmed—Paper Birch, Purple Poppy, Red Elder, Stinging Nettle
soothes anx­iety as we con­front change—Redoubt Vol­cano
Belonging
helps one feel wel­come in a family or group—Alaska Violet, Single Delight, Starflower
in a new neigh­bor­hood or country—Cow Parsnip, Rein­deer Moss, Shooting Star
Change
Child­birth
Chil­dren
Com­pas­sion
Com­ple­tion
Con­fi­dence
Energy
Exhaus­tion
Inte­gra­tion
Iso­la­tion
Joy
Mother
New­born
Nur­turing
Over­sen­si­tive
Over­whelmed
by ener­gies from others or from the envi­ron­ment—Black Tour­ma­line, Cov­el­lite, Guardian, Hematite, Yarrow
by the amount of energy or infor­ma­tion one is receiving—Lapis Lazuli, Ruti­lated Quartz, Stinging Nettle, Twin­flower
by the pace and inten­sity of change—Fire­weed, Golden Cory­dalis, Green­land Icecap, Labrador Tea, Tidal Forces
Rebirthing
Recovery
Reju­ve­na­tion
Rela­tion­ships
Safety
Self-Appreciation
of one's beauty, regard­less of how it dif­fers from others—Columbine
of one's unique con­tri­bu­tion to the evo­lu­tion of humanity—Lace Flower
of our cre­ative abil­i­ties—Wild Iris
Sensuality/Sexuality
Shock
Sup­port
Trans­for­ma­tion
Trauma