Herbal Sitz Baths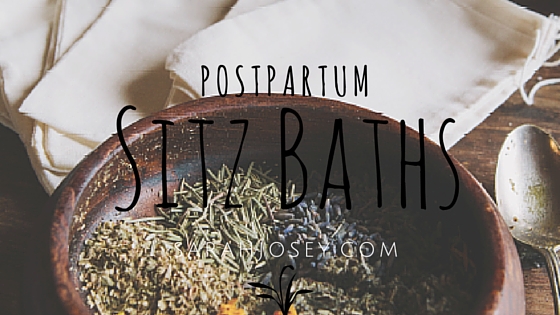 Herbal sitz baths are a wonderful way to heal and soothe the vaginal area after birth. The herbs themselves help the tissues recover faster allowing mom to be back to normal more quickly.
For those with C-Section births, the sitz bath herbs can be used as an herbal wash or compress on the incision site after 4-6 weeks have passed.
A scar oil can also be applied to the area at this time to help soften the tissues and minimize scarring.
How To:
When you are ready for your sitz bath:
Bring 6 cups of water to a boil
Pour 1 pint sized jar of blended herbs into a ½ gallon mason jar
Cover the herbs w/ boiling water
Cover your jar and allow to infuse for 1 hour.
Strain the infusion and compost the plant material.
If needed, gently rewarm the infusion
Pour into a stiz-bath or add to several inches of water in a traditional tub
Soak the perineum for 15-20 minutes, 2-4 times a day
Compresses & Sitz Pads Compress:
The sitz infusion may be warmed and added to a clean cotton cloth and used as a compress on the perineum.
This promotes good circulation, oxygenation and enhances healing.
Sitz Pads:
Prepare the sitz infusion by combining ½ a jar of sitz bath blend with one quart of boiling water.
Cover and allow it to infuse for 1-2 hours
Strain and add 1 teaspoon of sea salt to the strained infusion.
Lay out a cookie sheet lined with parchment paper and 6-12 disposable postpartum pads
Pour infusion over pads slowly, allowing the, to soak up as much infusion as possible.
Freeze them. Because of the sea salt they will only freeze to a semi-solid state
Use postpartum for swelling and any perineal tears.
Mothers can also add the infusion to their peri-bottles