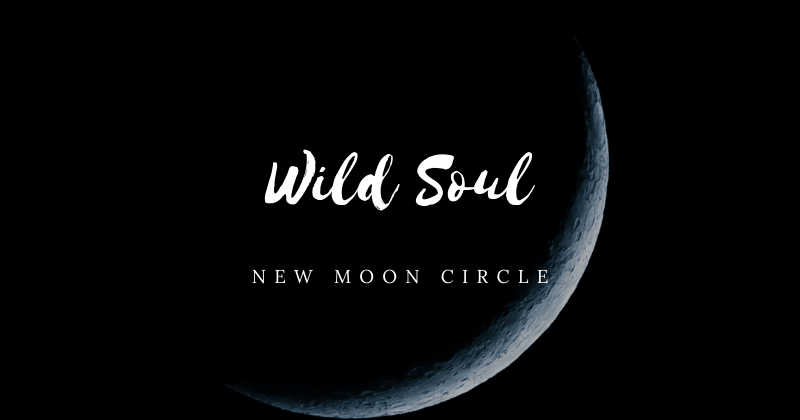 Join us on the Sunday closest to the new moon each month for a gathering of connection, reflection, and creation.
Wild Soul New Moon Circles are a way for us modern humans to tap back into the rhythms and cycles of nature, to bring forward our wildness, to reconnect with our higher selves and our deeper callings while making meaningful connections with those around us.
We gather each month on, or near the new moon to sit in circle, turn inwards, and listen to what our soul is calling for.
As a group we will do guided meditations based around the astrological energies, journal, witness and be witnessed by each other, and co-create a ritual to bring forth energy to move our desires towards fruition.
CURRENT CIRCLE INFO
Please visit our blog for the latest circle info:
http://sarahjosey.com/tag/new-moon-circles/
The New Moon is a time of turning inwards, of gathering in the dark, and of sitting still with oneself. It is also the time before the moon begins to wax, or get larger in the sky, which is a building of energy as it moves towards fullness.
These circles are not associated with a singular path or religion, but they are heavily influenced by the natural world and the wisdom it offers. Each New Moon takes place in a different astrological time and space and these associations are used to guide and inform the theme of each circle.
We may sing, we may dance, we may write, we may laugh, we may cry, we will howl, but above all we will ignite the wild heart and soul within us that is longing to be heard.
Attendees come from all manner of different spiritual and cultural backgrounds, and we strive to create a space that is welcoming and inclusive to all.
Circles are a Sacred Space
Nothing is ever shared outside of circle.
You are welcome to share your own experiences in circle, but you may never share the experiences or words of another. In this way we are able to create a space of trust which allows for true openness and honesty.
Additionally, this isn't the space to try and 'help' or 'fix' other's problems, we don't offer advice but rather hold space to witness, empathize, and support one another on their journey.
What is The Wild Woman Project?
The New Moon Circles are part of the Wild Women Project, a international network of circles that gather each new moon. The project is centered around the ideas of Sisterhood (having each others backs, empowering one another), a respect for the earth (wildness, turning to nature as a teacher) & co-creation (the understanding that just as we co-create our experience in circle, so do we co-create life on earth). Learn more about The Wild Woman Project HERE.
GENERAL INFORMATION
Time & Location
The next circle will be held at … on … at 6:30pm.
In order to maintain the sacredness of the circles, please arrive early so you have time to get settled and say hellos to those you wish to chat with. We close the space to new arrivals 5 minutes before the start time.
COVID-19 Precautions
We are committed to keeping this space sacred and safe for all.
Please come in a mask and be mindful of the wellness & safely of others.
Each circle member will have the option to remove their mask once all women are placed in the circle allowing appropriate social distancing space between each other.
Cost
All circles are sliding scale with 50% of the proceeds going to support the Charity of the Month, which changes with each new moon.
Food & Drink
Please bring your own drink and food.
Circle Flow:
Arrival & sign in
Pull a card from the oracle decks provided
10-15 minutes for hellos and socializing
Circle Opening, Grounding, and Heart Centering
Connection to the theme of the circle
Guided visualization/meditation
Journaling and Sharing
Intention Setting Ritual
Heart Light Closing
Farewells
Who can come?
Anyone over the age of 16 is welcome to attend, as are babies in arms.
What to wear:
Wear something you will be comfortable in as we will be sitting on ground for some of the time. Backjack chairs are provided for participants to make sitting more comfortable.
What to bring:
Journal & Pen
You may wish to bring a journal and something to write with. You won't be asked to take notes but, but you may feel inspired to write down your experiences, thoughts, prayers, whatever arises during circle.

Comfort Items
Anything that makes you feel comfortable. This could be a cushion, a blanket, a shawl, your slippers, anything you like.
Blessing Item for the Circle Center (optional)
You may choose to bring an item to place in the circle center to hold a prayer or blessing for yourself or loved one that might need some extra love from our circle energy.
This maybe a stone, feather, jewelry, leaf, seed, picture of ancestor or loved one, jewelry or any item you wish to place mindfully within our circle center to collect the wisdom and blessings from our circle gathering.
This is item is meant to go home with you after the circle.
If you have landed here,
you are meant to be here.
Answer the call of the universe and join us.
There is immense power in being in circle where we can share our hearts in a safe space and tap into the collective energy to help manifest our dreams and intentions.